Call
1.508.668.4110
or
Email
Precision CNC Machining and Prototyping for Every Industry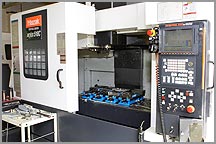 At CNE Machine Co., we provide the CNC machining services you need, and much more. For years, we've focused on providing a level of precision and versatility that allow us to cater our CNC machining and prototyping services to very specific customer needs. Regardless of your industry, when you need high quality parts - CNE Machining is the source.
From computer, medical and biotech companies to customers in the semiconductor, cryogenic, and oceanographic industries — we have experience with an extremely wide range of customer requirements. So whether you need prototype parts or a full production run, our skilled machinists can quickly and efficiently provide precision CNC Machining to your specifications, in a variety of materials.
From Concept to Completion: the Full Service CNC Machining and Prototyping Services You Need
At CNE Machining, it's our singular focus to provide high quality, full service CNC machining and prototyping. By combining experienced CNC machinists, precision equipment, and exhaustive quality control, — we're confident that CNE Machining possesses the expertise and precision necessary to suit a variety of individual customer needs.
3D milling and turning up to 24" x 24"
4 CNC lathes provide up to 16" diameter by 48" long travel, capable of high volume operations
7 CNC milling machines capable of 40" x 20" Y and 25" Z travel
Climate controlled quality control inspection room
CNC machining and prototyping in a wide variety of materials
CNC water jet machine capable of working in sizes 24" x 24"
Coordinate measuring machine capable of 16" X , 20" Y, 14" Z travel
Glass bead blasting and vibrator finishing
Longstanding working relationships with providers of heat treating, anodizing, plating, and other surface finishes
Optical comparator
Surface grinding up to 8" wide by 18" long
Turning up to 18" in diameter
To learn more about what we offer at CNE Machine Co., please don't hesitate to Contact Us.
MACHINING INDUSTRIES
---

Biotech
Electronics
Medical
Semiconductor
---
Need help with that special project?
Call
1.508.668.4110
or
email us
today!
2000 Main Street
Walpole MA 02081
Call
1.508.668.4110
Fax 1.508.668.4112
Email
[email protected]
Walpole, MA Website Design Development
CNE Machine Co. is a CNC machining company and prototype machine shop providing CNC machining services including precision CNC machining, CAD prototype, prototype machining and 3D CNC machining for New Hampshire - NH, Massachusetts - MA, Rhode Island - RI and Connecticut - CT.